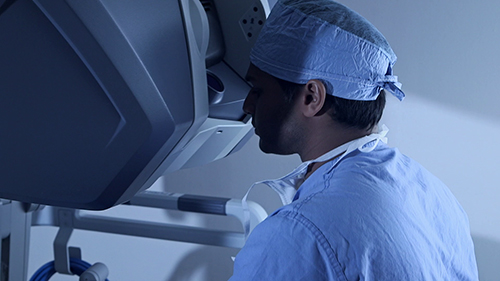 Wake Forest Baptist Health – High Point Medical Center has been designated as the first general and bariatric surgery epicenter for da Vinci robotic surgery in North Carolina. An epicenter – designated by Intuitive Surgical, the manufacturer of the da Vinci robot – means that a surgeon who has exceptional experience and performance with the device can serve as a trainer and mentor to other surgeons who want to learn robotic surgery.
The da Vinci robotic technology, which has been used at High Point Medical Center since 2006 and throughout the Wake Forest Baptist Health system since 2004, allows surgeons to turn what would traditionally be open procedures into minimally invasive procedures with small incisions, very fine movements and minimal trauma and bleeding.
"Our team is pleased to receive this designation and to be recognized as one of the leading general and bariatric robotic surgery centers in the state," said Nikhil Teppara, M.D. FACS, Director of Bariatric and Robotic Surgery at Wake Forest Baptist Health – High Point Medical Center, who has performed more than 600 robotic general and bariatric surgeries. "This leading-edge technology has helped reduce readmissions and surgical complications and provides patients with better outcomes and a faster return to their normal activities."
As an epicenter, High Point Medical Center and Dr. Teppara serve as hosts for visiting surgeons who are interested in performing robotic surgeries at their own hospitals. In the last month, Dr. Teppara has hosted surgeons from some of the leading institutions and academic medical centers across the Southeast.
"Surgeons from across the state, throughout the country and around the world are now coming to High Point to observe Dr. Teppara and his team in the operating room," said James Hoekstra, M.D., President of Wake Forest Baptist Health – High Point Medical Center. "As teachers and leaders in this technology, we're thrilled that the work we're doing here in High Point will be carried to other health systems and hospitals to help improve surgeries and outcomes for patients."
The da Vinci robots at High Point Medical Center were purchased through generous donations and support from the High Point community. Wake Forest Baptist Health upgraded the robots to XI robotic platform systems, the newest robotic system available, enabling High Point Medical Center to grow and expand both new and existing services including thoracic, urologic and gynecologic robotic surgery.
Media contact: Adam Heller, 336-414-2925.