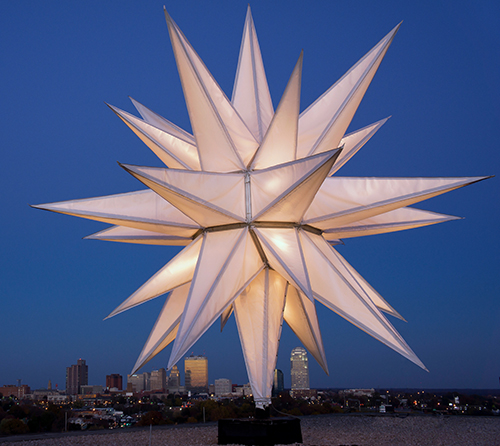 Note: A time-lapse of the star being assembled, drone footage and a high quality photo are all available for download.
This holiday season, traditions will look different for many families, including the Wake Forest Baptist Medical Center family and its annual Moravian star lighting.
Wake Forest Baptist will hold its star lighting ceremony at 5:45 p.m. on Monday, Nov. 30 on top of the Eden Terrace parking deck. The ceremony will be open to the media but closed to employees and the general public. The inclement weather date is Wednesday, Dec. 2.
"This will actually be the second time we have assembled and lit our Moravian star this year, which is unprecedented for us," said Gary Gunderson, D. Div., vice president of FaithHealth at Wake Forest Baptist. "We also displayed the star back in April and May to offer a sense of hope and some reassurance to those in the community. It's been a challenging year for everyone and our hope is that this year's star will bring a little extra light and joy to all."
Since 1992, Wake Forest Baptist has celebrated its holiday spirit with the Winston-Salem community through the 31-foot Moravian star atop the Medical Center's North Tower.
The one-of-a-kind star has 27 points that range in length from 7 feet to 11 feet and weigh from 30 to 65 pounds each. Every point of the star is illuminated by a 100-watt bulb.
Media interested in attending should RSVP by 3 p.m. on Monday, Nov. 30 for parking and logistical information.
Media contacts:
Eryn Johnson, eryjohns@wakehealth.edu, 336-905-1442
Joe McCloskey, jmcclosk@wakehealth.edu, 336-407-4690