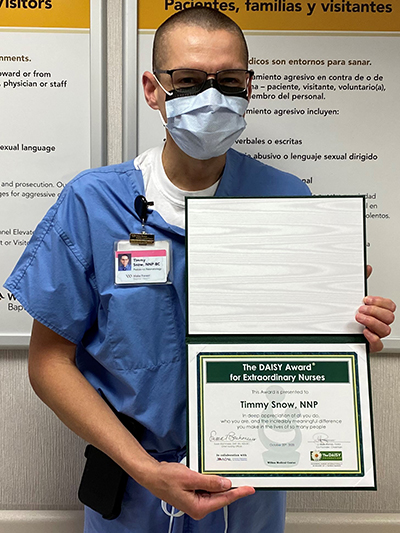 Wilkes Medical Center proudly announced Timmy Snow, neonatal nurse practitioner as the hospital's DAISY Award winner on October 20th.
The DAISY Award is a nationwide program that rewards and celebrates the extraordinary clinical skill and compassionate care given by nurses every day. Wake Forest Baptist Health Wilkes Medical Center plans to recognize one of its nurses with this special honor every quarter. Each honoree receives a banner, certificate, DAISY Award pin and a hand carved "A Healer's Touch" stone sculpture.
When asked what he enjoys most about being a nurse practitioner Timmy had this to say:
"I am honored to have been chosen as a Daisy award winner for Wilkes Medical Center. Being a Neonatal Nurse Practitioner is a second career for me. My parents raised me on a tobacco farm and I can remember my dad working so hard to give me what he could. He always was an encouraging figure in my life. I always said, 'he always thought I was better than I actually was'. Nowadays, I think I try to use his patience more than anything else. After spending time as a bedside nurse and a transport nurse, I have been an NNP for 22 years. I absolutely love taking care of babies and I do realize the gravity in what I do. Every decision has a consequence. Each day you may be talking to parents on their best day ever or it may be their worst. I want to be able to give them something positive to look back on. I have learned over the years that it takes managers who will stand up for employees, strong nurses, nursing assistants...all the way to housekeeping, security and engineering to have a successful organization. But it has to be a special situation where it comes together to be a family like I have at Wilkes Medical Center"
Debbie Mancusi, RNC, Timmy's manager said:
"Joining our team at Wilkes Medical Center a few years ago, Timmy, along with all the nurse practitioners, have been a tremendous support and a wonderful asset to our department. He has provided countless hours of education to the nursing staff and developed several improved processes and policies that have improved patient care. His greatest strength however, is his ability to connect with patients and their families. Timmy has a calming, compassionate demeanor which has helped patients through the most difficult times. He is very deserving of this award and we are proud he chooses to share his knowledge, expertise and skills with us. He definitely lives our patient and family promise each and every day".
The next DAISY Award winner will be chosen in January 2021.