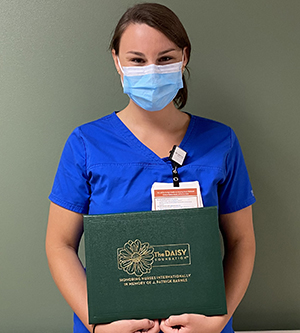 Wilkes Medical Center proudly announced Sarah Rogers as the hospital's DAISY Award Winner on August 25th.

The DAISY Award is a nationwide program that rewards and celebrates the extraordinary clinical skill and compassionate care given by nurses every day. Wake Forest Baptist Health Wilkes Medical Center plans to recognize one of its nurses with this special honor every quarter. Each honoree receives a banner, certificate, DAISY Award pin and a hand carved "A Healer's Touch" stone sculpture.
When asked what she enjoys most about being a nurse Sarah had this to say:
"Receiving the DAISY award was an absolute surprise. Getting to read the testimonial of the family who nominated me is a gift that I will keep with me for the rest of my career. My mother was a nurse, and after she passed I have had countless people tell me all the ways she changed their life. I grew up with people telling me my mother was their hero because of the way she cared for them inside and outside of the hospital. Nurses would become my family's heroes during her passing which I can still vividly remember from when I was 5 years old. This was my inspiration for becoming a nurse. I wanted to help people beyond just the medical side. I wanted people to not feel alone which has been even more difficult during this pandemic. Having only been a nurse for a year, I rely on my coworkers to continuously educate me on how to handle situations and care for people in the best way; so again, nurses remain my heroes".
Debbie Mancusi, RNC, Sarah's manager said:
"Sarah joined the nursing staff at Wilkes Medical Center's surgical unit in 2019. She has been a tremendous asset to our team of professionals. Sarah has an energetic, cheerful personality with a compassion to care for others. Being a wonderful listener and patient advocate, she spends time connecting and communicating with everyone she encounters. The DAISY award exemplifies her strength as someone who truly lives her profession every day. She is very deserving to be included in this group of excellent nurses".
The next winner will be announced in October.