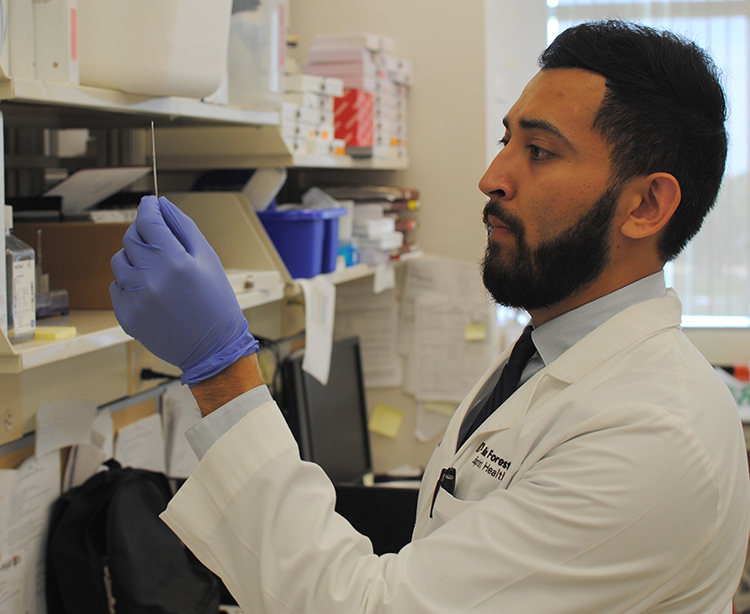 Martin Rodriguez, a Molecular Medicine & Translational Science PhD program student at Wake Forest University, has been awarded a prestigious Gilliam Fellowship for Advanced Study from the Howard Hughes Medical Institute.

Rodriguez – the first Wake student to receive this fellowship – has been training at the Wake Forest Institute for Regenerative Medicine (WFIRM) since 2016 when he was selected to participate as an undergraduate summer research scholar in the annual Summer Scholars Program in Regenerative Medicine. At that time, he was an undergraduate student attending Marquette University. With his interest spurred in advanced education and the field of regenerative medicine, he then applied and was accepted into the PhD program in Molecular Medicine and Translational Science at the Wake Forest Graduate School.

"We are so excited for Martin and believe he is an excellent example of what this fellowship embodies – academic excellence, scientific potential and leadership," said Joan Schanck, Chief Education Program Officer for WFIRM.

Rodriguez said that being selected for the Gilliam Fellowship is both an invaluable achievement and an official invitation to pursue scientific inquiry among other high performing, rising investigators. "The specialized training and financial support enhances my ability to freely pursue research avenues that our team wouldn't be able to otherwise," he said. "It is also a true honor to take part in Wake Forest University's driven initiative to advance the body of knowledge for the benefit of humanity."
The goal of the Gilliam Fellowships program, which announced the recipients on July 31, is to increase the diversity among scientists who are prepared to assume leadership roles in science, particularly as college and university faculty. The program provides awards to adviser-student pairs who are selected for their scientific leadership and commitment to advance diversity and inclusion in the sciences. Along with a $50,000 annual award for up to three years for each adviser-student pair, advisers will participate in a year of mentor training focused on cultural awareness.
A good scientific mentor, said Schanck, "can help students navigate different career paths as well as be a sounding board and an advocate."

Rodriguez is mentored at WFIRM by Graca Almeida-Porada, MD, PhD, and works in the Almeida-Porada lab conducting research to determine the therapeutic and immunological outcomes of prenatal exposure to clotting factor VIII in hemophilia A. He credits her with being a major and positive influence in his academic pursuits, and added, "I strive to one day do the same for others."

"Given the opportunity, Martin shines in personality, in knowledge, and in perseverance. The HHMI Gilliam Fellowship will give him the resources, intellectual stimulation, and professional network required for him to achieve his full potential," Almeida-Porada said. "With the fellowship as a catalyst, I have no doubt that Martin will make remarkable contributions to science in the future."

Each fellow submitted a career statement describing how their personal experiences and training inform their science, and how they plan to make scientific culture more inclusive. The Gilliam program is aimed at people who will become leaders in science.

To be eligible for a Gilliam Fellowship, students must be enrolled in their second or third year of a PhD program in biomedical or life sciences disciplines, but not in an MD/PhD program. Students must be from racial, ethnic, or other underrepresented groups in the sciences, or alumni of the HHMI EXROP program. The fellowships honor the legacy of the late James H. Gilliam Jr., a trustee of the Howard Hughes Medical Institute who devoted his life to fostering excellence and diversity in education and science.