Note: High quality versions of these photos can be downloaded here.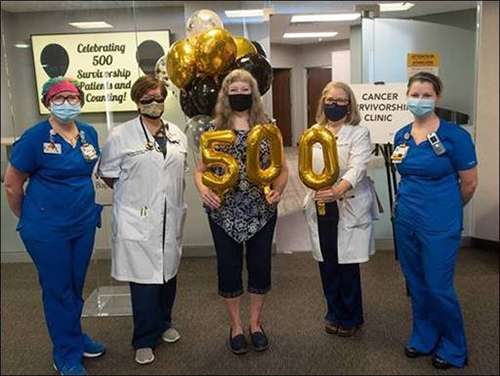 Cathy Way (center) celebrates being the 500th patient at the Cancer Survivorship Clinic with her treatment team.
The Cancer Survivorship Clinic, part of the Comprehensive Cancer Center at Wake Forest Baptist Medical Center recently celebrated its 500th patient, Cathy Way of Sophia, and the one year anniversary of the clinic. The clinic space is dedicated to the physical and emotional care that cancer survivors require following their treatment.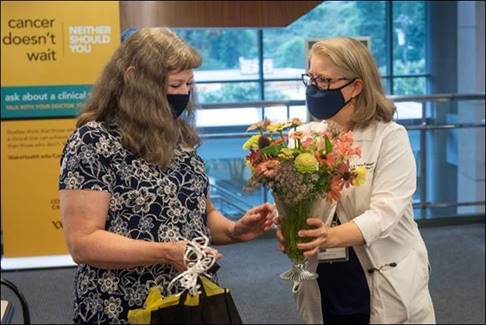 Cathy, a T-cell lymphoma survivor who received a bone marrow transplant four years ago, was gifted flowers from her physician, Dianna Howard, M.D., professor of hematology and oncology.
Wake Forest Baptist is home to the region's only National Cancer Institute-designated Comprehensive Cancer Center and the only regional institution to have a dedicated cancer survivorship clinic space. The clinic serves patients across several areas including: hematology and oncology, cardiothoracic surgery, gastrointestinal surgery, radiation oncology and pediatric hematology and oncology.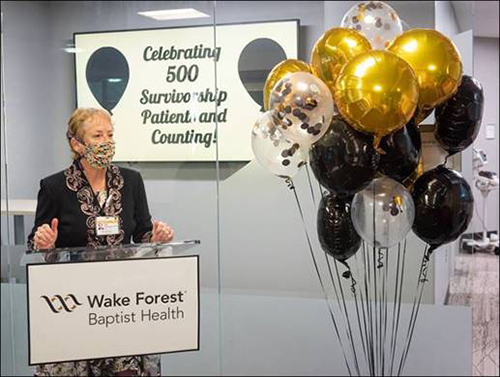 Despite the pandemic, the Cancer Survivorship Clinic had its highest patient count last month – visits were in-person and via telehealth.