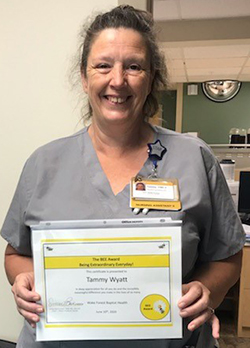 Wake Forest Baptist Health - Wilkes Medical Center recently announced Tammy Wyatt, a certified nursing assistant (CNA), as its BEE award winner for the first quarter of 2020.
The BEE award recognizes team members outside of nursing and coincides with the DAISY award, which honors nurses. The BEE Award was created because just as in nature bees are loyal, hardworking and cannot exist without the daisy, as neither can the daisy exist without the bee.
"I have always been a caregiver at some point of my life, but when my grandfather was placed in a nursing home, I was lead to become a CNA so I could have quality time with him before he passed away," said Wyatt. "I believe laughter is the best medicine you can give a person, if I can help a patient to laugh during my shift then I feel my job has been done. I am blessed to be able to have the ability to help care for people. I give my Lord all the glory for whatever I have done in this field; He is the one who directs my path each and every day."
Wyatt has been a CNA for 19 years and has worked in nursing homes, home health and hospital settings.
"Tammy has been a team member of our surgical unit at Wilkes Medical Center for five years and brought with her many years of experience and a passion for caring for others," said Debbie Mancusi, Wyatt's manager. "She trained other nursing assistants and given them encouragement and guidance. Tammy has a special way of getting to know her patients and easing their anxiety with kindness, smiles and laughter. She's very deserving of the BEE award and we are very proud she is part of Wake Forest Baptist Health - Wilkes Medical Center."
The next BEE award winner will be announced in the fall.
Media Contact:
Eryn Johnson, eryjohns@wakehealth.edu, 336-905-1442