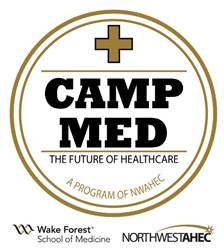 Things are a little different this year for everyone, including Northwest Area Health Education Center (NWAHEC). Usually the Camp Med program is gearing up to host in-person learning for a group of high school students but instead NWAHEC has elected to transition to a 100% online learning experience this year.
The Camp Med 2020 Virtual Summer Program provides 20+ hours of on-line content designed to give students a fun and rewarding experience while gaining the knowledge and skills to help them make informed decisions about future careers in health.
"We are excited about this unique opportunity to open the program to even more students." said Michael P. Lischke, Director of Northwest Area Health Education Center. "We strive to ensure that every student in our region, -- in grades 9-12, post-secondary or professional schools, -- is aware of and excited to learn about the broad range of health careers that are viable and attainable career options."
NWAHEC's Camp Med Program is a great way for high school students to discover the world of possibilities in health careers. Now more than ever, there is a need for a talented health care workforce.
Students will learn about the challenges facing health care providers, study the social determinants of health, and take a virtual tour of the human heart! They even have a chance to win up to $500 by participating in the Camp Med video contest at the conclusion of the program.
The program is FREE! To register today, visit nwahec.org/CAMPMED2020.
Media Contact
Brooke Kochanski, bkochans@wakehealth.edu, 336-713-7705