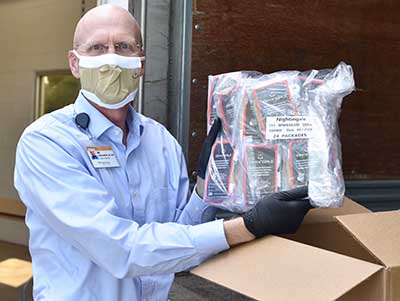 A broad cross-section of community leaders, including those from Novant Health and Wake Forest Baptist Health, joined Winston-Salem Mayor Allen Joines today to announce a new initiative called Mask the City to help reduce the spread of COVID-19 in this area.
The purpose of Mask the City is to provide everyone in Winston-Salem access to a mask and urge them to wear it as well as to continue social distancing for 40 days from April 22 through May 31. The masks will be widely dispersed throughout the community under the program.
William M. Satterwhite, III, J.D., M.D., chief wellness officer at Wake Forest Baptist Health (pictured), and his team designed the mask in conjunction with Renfro Corporation. Renfro is manufacturing the masks, which are called the Nightingale™ WS Protective Mask.
"We are grateful to Dr. Satterwhite and his team for their innovation and design and we are pleased to partner with Novant Health, the City of Winston-Salem, and countless organizations and businesses throughout our area, to help keep those in our community safe and healthy," said Julie Ann Freischlag, M.D., CEO of Wake Forest Baptist Health and dean of Wake Forest School of Medicine.
"Over the past month, many hundreds of people in our community have selflessly come together and have devoted their time, energy and talents into helping us stay healthy. We are honored to join with them and build upon these grassroots efforts to show that we're all in this together."