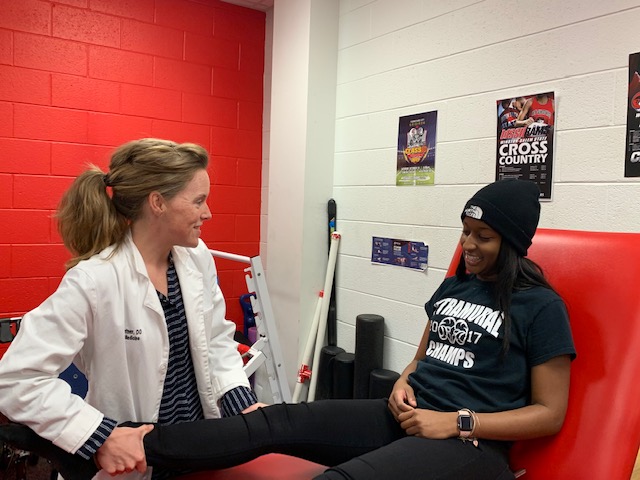 Wake Forest Baptist Health is collaborating with Winston-Salem State University to provide comprehensive sports medicine and orthopaedic services for the university's football and men's and women's basketball teams.
As part of the agreement, Wake Forest Baptist provides team physicians who work with coaches and student-athletes on injury prevention, care and recovery, including management of concussion and other injuries; pre-participation clearances such as physicals and sickle-cell testing; behavioral health; and research opportunities that support improvements in athlete performance, safety and medical care.
Physicians also attend every home basketball and football game and coordinate medical coverage for away games and other sporting events as needed.
"We are pleased that Winston-Salem State recognizes our expertise in sports medicine and orthopaedics and that they trust us to care for their student-athletes," said L. Andrew Koman, MD, chair of orthopaedic surgery at Wake Forest Baptist. "Our goal is to keep these athletes healthy, but when injuries occur, we want to help them get back on the court or on the field as soon as possible."
In addition to their roles with the health system, Laura Lintner, DO, assistant professor of family medicine at Wake Forest Baptist, will serve as the medical director for WSSU athletics and Kevin Coates, MD, assistant professor of orthopaedic surgery at Wake Forest Baptist, will serve as the sports medicine director.
"We appreciate the partnership with Wake Forest Baptist Health and their medical expertise in the area of sports medicine and orthopedics," said Etienne Thomas, Winston-Salem State's athletic director. "WSSU's student-athletes have direct access to first-class medical support in the physicians, surgeons, and medical professionals that they interact with on campus during annual physical exams, off-campus for treatments, evaluations, and surgeries, and in rehabilitation appointments. We look forward to this continued partnership and ensuring our student-athletes are in the best mental and physical condition for success."
WSSU and Wake Forest Baptist are part of the largest nationwide concussion study ever conducted, and since 2016, Wake Forest Baptist has directed comprehensive baseline concussion screening for all athletes at WSSU and provided follow-up evaluations on those who have suffered a concussion.
In addition to WSSU, Wake Forest Baptist provides sports medicine services to a number of area sports teams, universities and school systems, including the Winston-Salem Dash, High Point Rockers,
Wake Forest University, University of North Carolina School of the Arts, Winston-Salem/Forsyth County Schools, Wilkes County Schools, Yadkin County Schools, Lexington High School and several high schools in Guilford County.
Media Contacts
Joe McCloskey, jmcclosk@wakehealth.edu, 336-716-1273
Eryn Johnson, eryjohns@wakehealth.edu, 336-713-8228