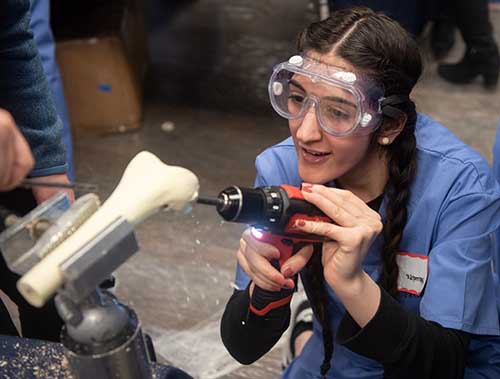 Several dozen high school girls from across the Southeast were able to learn about orthopaedic surgery and engineering careers during a free, hands-on program held Saturday, Feb. 15 in Innovation Quarter.
Wake Forest Baptist Health faculty and staff participated in The Perry Initiative – a national program designed to inspire young women to consider careers in orthopaedic surgery and engineering and to provide mentorship from women surgeons and engineers.
"Women continue to be underrepresented in the fields of orthopaedic surgery and engineering, so programs such as this allow us to connect directly with young women in our community and expose them to careers they may not have previously considered," said Holly Pilson, M.D., assistant professor of orthopaedic surgery at Wake Forest Baptist Health.
Most attendees were from high schools in North Carolina, but students from as far away as Kentucky and South Carolina participated in the event.