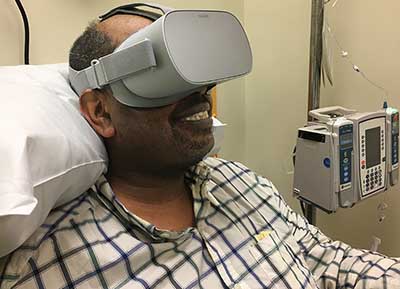 Patients with conditions such as multiple sclerosis, myasthenia gravis and other neuromuscular disorders can spend up to eight hours at a time receiving infusion therapy services for their condition.
To help improve the patient experience and provide an immersive method of distraction, Wake Forest Baptist Health has started offering virtual reality headsets to patients of all ages during their infusion therapy visits to the outpatient neurology clinic at Wake Forest Baptist Medical Center.
Patients can choose from dozens of experiences including nature scenes such as watching the northern lights, swimming with manatees or floating in outer space. They can also play games, watch YouTube videos and even sign in to their Netflix account. If a friend or family member is accompanying them to their visit, a second headset can be used so they both can enjoy the same movie or television show together.
"Our patients have been using these headsets since the beginning of November, and the feedback has been overwhelmingly positive," said Charles Tegeler, M.D., interim chair of neurology at Wake Forest Baptist Health. "We envision there could be unlimited opportunities to use this technology across our health system to educate and improve the experience for our patients, as well as our faculty and staff."
Research conducted at other health systems across the country has shown that using virtual reality for distraction during procedures is safe, with most participants reporting a significant reduction in pain and anxiety.
Media Contacts:
Joe McCloskey, jmcclosk@wakehealth.edu, 336-716-1273
Eryn Johnson, eryjohns@wakehealth.edu, 336-713-8228