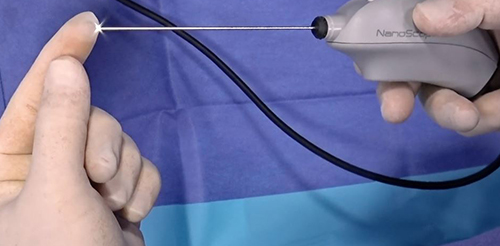 For the past several years, 24-year-old Hollyann Augusto lived with undiagnosed knee pain.
After learning from her mother, an employee at Wake Forest Baptist Health, about a new procedure that seemed capable of alleviating her pain, she traveled from her home in New Jersey to see Kevin Coates, M.D., assistant professor of orthopaedic surgery at Wake Forest Baptist.
An MRI was not able to detect any injury, so Coates used a recently developed device called NanoScope to look inside her knee.
Augusto watched on a video monitor as a tiny camera about the size of a needle tip was inserted into her knee. Within minutes, Coates discovered the reason for her pain.
"He was quickly able to see that I had a pretty complex tear of my meniscus and some significant defects in the cartilage," Augusto said. "I was very impressed with the procedure and it was really interesting to see firsthand what was going on inside my knee."
The nature of her knee injury required Coates to perform traditional arthroscopic surgery a week later, but in many situations the capabilities of the NanoScope system allow surgeons to both diagnose injuries and treat them at the same time.
"Injuries such as Hollyann's are often difficult for an MRI to detect, so the small size and superb image quality of this device allow surgeons to relieve the pain that many patients have lived with for years," Coates said. "Wake Forest Baptist is pleased to be the first in the region and among just a handful of sites around the world to offer this micro-arthroscopy technology so we can help get people back to their normal activities sooner."
With her knee pain now gone, Augusto is looking forward to resuming the active lifestyle she once enjoyed.
"I enjoy going to the gym, so I'm starting to once again do exercises I had to avoid," she said. "I also like to kayak and it was really difficult getting into the kayak, so I can see myself doing much more now than I was able to for the past few years."
Initially, the NanoScope system is being used by Wake Forest Baptist orthopaedic surgeons, but Coates envisions the device ultimately being used for other specialties as well.
Coates helped develop the NanoScope technique and is a paid consultant for Arthrex, Inc., the device manufacturer.