Atrium Health, Wake Forest Baptist Health and Wake Forest University announced that as part of a series of ongoing milestones, all parties have come to agreement on how these visionary organizations will further invest in the health and well-being of people throughout the region. The agreement currently being reviewed by the appropriate regulatory agencies details a strategic combination that will revolutionize the ways people become and stay healthy, ultimately enriching countless lives and communities throughout North Carolina, the southeast and the entire nation. The regulatory review process is expected to be complete by or before early 2020.
"Simply stated, we have a bold vision to combine our respective talents and create the nation's leading modern academic healthcare system. We have now taken a giant step forward in bringing that collective vision to life," said Eugene A. Woods, president and CEO of Atrium Health. "Our teams cannot wait to initiate planning for the second campus of the Wake Forest School of Medicine in Charlotte in 2020, while making new investments in the research and innovation core in Winston-Salem, as we strive daily to discover new ways to bring more health, hope, and healing to the 7 million people residing in the communities we serve. The possibilities truly feel limitless."
"As a physician-scientist, I have seen first-hand what large-scale translational trials have brought to my patients," said Julie Ann Freischlag, MD, CEO of Wake Forest Baptist Health and Dean of Wake Forest School of Medicine. "But the future of clinical trials will require integration of research into everyday care over a large scale to bring these leading-edge treatments and technologies quickly to those who need them – bringing together our complementary strengths is transformative, and it is powerful. Our accomplishments and learnings in population health management and large-scale trials in the future will be incorporated into the academic medical school curriculum so that our new doctors and medical providers have the latest best practices and team skills to treat their patients."
"Our goal has been to come together to create a new model for world-class academic healthcare in our country. I believe our strategic combination has set this worthy undertaking in motion," said Nathan O. Hatch, PhD, president of Wake Forest University. "Our approach invests new resources, innovation and talent into Winston-Salem, Charlotte and throughout the Atrium Health network. It will strengthen research and teaching in our home medical school, while launching a second ground-breaking "sister" medical school just 80 miles down the road in the dynamic city of Charlotte. We are excited about the possibilities."
Building a New ED/OR/ICU Tower for Patients at Wake Forest Baptist Medical Center
An investment to build a new ED/OR/ICU Tower in Winston-Salem is included in the strategic combination plans.
Current plans for the new cutting-edge care tower will:
Relocate existing life-saving emergency services in the expanded adult emergency department, which is currently one of the busiest in the region with nearly 230,000 patient visits last year alone.
Open new state-of-the-art operating rooms with adult intensive care units, along with innovative radiology, pathology and other related services.
Modernize and fulfill a long-term need for Wake Forest Baptist Medical Center, as the primary referral center in western North Carolina for trauma and burn patients.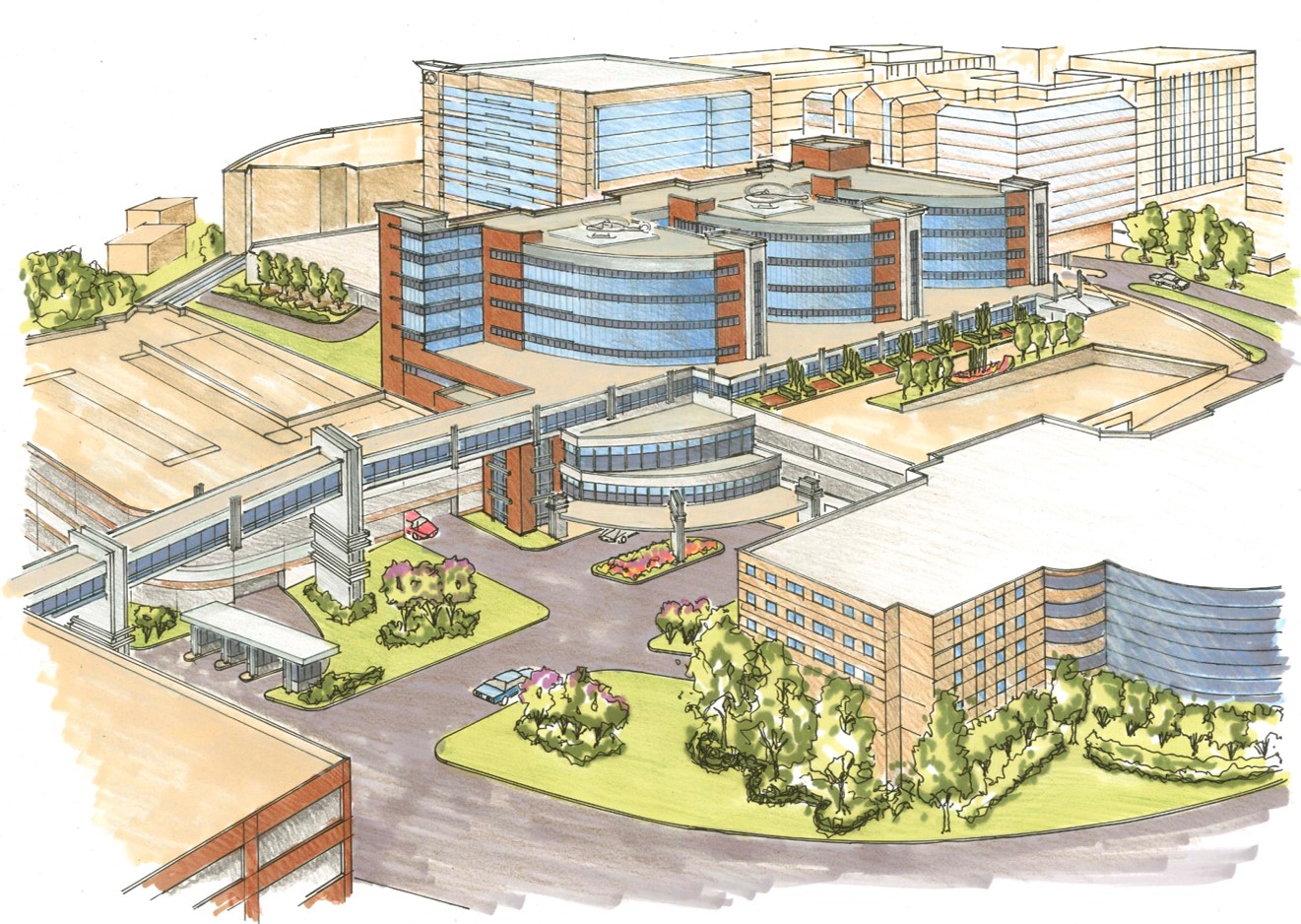 This rendering is for illustrative purposes only and is one example of what a new ED, OR and ICU Tower could look like.
Establishing a New Eye Institute in Winston-Salem's Innovation Quarter
A new stand-alone Eye Institute will be established for Wake Forest Baptist's growing ophthalmology department, which attracts over 90,000 patient visits each year.
The first-of-its-kind in the region, advanced Eye Institute facility will:
Provide an easy access location for all eye services and bring together clinic and clinical trial, imaging, treatment and surgical spaces with education space for training the next generation of eye care providers.
Relocate existing and new eye services from the Medical Center campus to a new location in Innovation Quarter's southern district to anchor and foster the future economic growth of downtown Winston-Salem.
Be funded through philanthropic gifts which will be matched by funds provided by the proposed strategic combination.
Forming a Unique and Transformative Academic Healthcare System
Teams from each organization have been diligently working to turn their vision into reality since the signing of a Memorandum of Understanding in April – by developing plans for a unique and transformative academic healthcare system.
As part of the proposed strategic combination, Atrium Health and Wake Forest Baptist Health are committed to:
Developing a second state-of-the-art School of Medicine campus in Charlotte by building on the experiential learning curriculum of Wake Forest School of Medicine, educating nearly 3,200 total healthcare learners – including students, residents and fellows across more than 100 specialized training programs each year.
Investing in the Translational Research and Population Health Center in Winston-Salem, which will exponentially expand access to thousands of clinical trials across the region at Atrium Health's 39 locations and allow new treatments and cures to be realized more quickly with Wake Forest Baptist Health's more than $220 million in annual research funding from the National Institutes of Health and other external sources.
Expanding Virtual Care capabilities across the state, making care more accessible and affordable for the nearly 7 million North Carolinians, who live in both rural and urban areas currently served by Atrium Health and Wake Forest Baptist Health.
Coordinating efforts to advance large, multi-site, patient-centered research collaborations in high blood pressure, diabetes, hypertension, arterial disease and other conditions that affect millions of Americans.
Transforming the research work in ground-breaking healthy aging, mobility and Alzheimer's, preparing for the one in five U.S. residents who will be over age 65 by 2035, by helping this important population become healthier as they age with a better quality of life.
Providing health, hope, and healing for all as the largest provider for Medicaid recipients and other vulnerable, underserved populations across North Carolina.
Atrium Health, Wake Forest Baptist Health and Wake Forest University look forward to sharing further information regarding the progress of the proposed strategic combination once it has been appropriately reviewed by the required regulatory agencies. Updates will continue to be made available at www.BestCareforAll.org.
About Atrium Health
Atrium Health, previously Carolinas HealthCare System, is one of the nation's leading and most innovative healthcare organizations, provides a full spectrum of healthcare and wellness programs throughout the Southeast region. Its diverse network of care locations includes academic medical centers, hospitals, freestanding emergency departments, physician practices, surgical and rehabilitation centers, home health agencies, nursing homes and behavioral health centers, as well as hospice and palliative care services. Atrium Health works to enhance the overall health and well-being of its communities through high-quality patient care, education and research programs, and numerous collaborative partnerships and initiatives.
About Wake Forest Baptist Health
Wake Forest Baptist Health is a pre-eminent academic health system based in Winston-Salem, North Carolina. Wake Forest Baptist Health's two main components are an integrated clinical system – anchored by Wake Forest Baptist Medical Center, an 885-bed tertiary-care hospital in Winston-Salem – that includes Brenner Children's Hospital, five community hospitals, more than 300 primary and specialty care locations and more than 2,000 physicians; and Wake Forest School of Medicine, a recognized leader in experiential medical education and groundbreaking research that includes Wake Forest Innovations, a commercialization enterprise focused on advancing health care.
About Wake Forest University
Founded in 1834, Wake Forest University is a private university located in Winston-Salem, N.C., with more than 8,000 students. The undergraduate population of more than 5,100 hails from 49 states and more than 50 foreign countries. Ours is a vibrant and diverse academic community in which students pursue learning in one or more of the 45 majors, 60 minors and additional programs we offer within our six colleges and schools. In September 2018, U.S. News & World Report ranked Wake Forest as one of the top 30 National Universities for the 23rd consecutive year. In addition to the overall standing of 27th place, Wake Forest stands 13th in Strong Commitment to Undergraduate Teaching and 24th for Best Value.