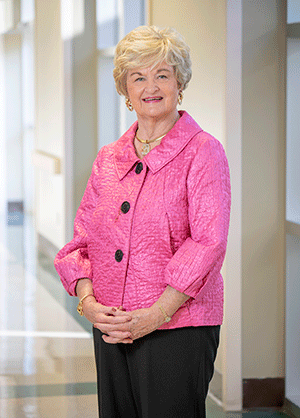 Local volunteer and fundraiser, Sara DeLapp, will be honored for her leadership at an awards ceremony Monday in Greensboro.
DeLapp will receive the Outstanding Volunteer Fundraiser, Lexington award, to be presented at the N.C. Triad Chapter of the Association of Fundraising Professionals 2019 National Philanthropy Day luncheon.
Wake Forest Baptist Health leaders nominated her for the award which honors those who demonstrate outstanding leadership and skill in coordinating and motivating groups of donors and volunteers for fundraising projects in the community and who make a measurable impact on community philanthropy.
"Sara has been an incredible supporter of our hospital and countless other organizations that touch so many lives in our area," said Bill James, president of Lexington Medical Center. "As a result of her dedication, the breadth and depth of our reach and impact throughout our entire community has been successfully enhanced."
DeLapp has served on the boards of Lexington Medical Center and the Lexington Medical Center Foundation for years and has led many of the hospital's major fundraisers. She started Sportsmen's Saturday in 2010 and has continually served on the committee for the event that has raised almost $1.6 million for improvements at the hospital, including rehabilitation services, the emergency department, the cancer center and most recently, the new surgical facility.
"Sara's leadership throughout our surgical facility campaign was fantastic," said Lisa Marshall, chief philanthropy officer at Wake Forest Baptist Health. "It is but one example of the critical link she provides to so many members of the greater Lexington community."
She has served on the board of the J. Smith Young YMCA, has led the annual luncheon fundraiser for Davidson Medical Ministries, was on the capital campaign committee for the Hospice of Davidson County Hinkle Hospice House, and in 2017, DeLapp and her late husband, Bill, were recognized with the Hospice of Davidson County Founders Award.
DeLapp was a member of the Davidson County Community College Foundation board for 22 years, was president from 1994 to 1996, chaired their 50th anniversary gala and was named director emeritus in 2006 in honor of her lengthy and successful tenure.
In addition, DeLapp was an active member of the Charity League of Lexington for 16 years and served as president from 1992 to 1994. She chaired the first Charity League Gala which raised more than $50,000 for projects benefiting children in the Lexington area.
The 2019 National Philanthropy Day celebration honors the leadership, talents and investments of donors and volunteers throughout the Triad.

Media Contacts:
Eryn Johnson, eryjohns@wakehealth.edu, 336-713-8228
Joe McCloskey, jmcclosk@wakehealth.edu, 336-716-1273