Recent renovations to Wake Forest Baptist Health Sports Medicine - Stratford have tripled the size of the facility's clinical space, allowing additional services to be offered.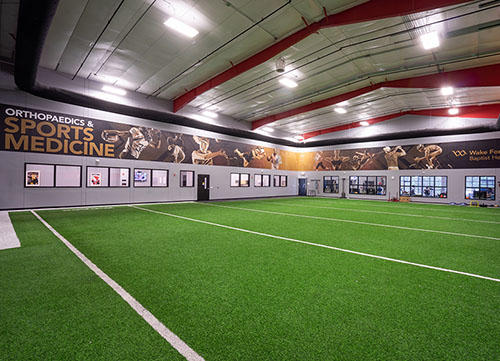 Twelve more exam rooms, an expanded procedure room, larger physical therapy treatment areas, another X-ray machine and new indoor turf are some of the new features of the renovated facility, located at 1901 Mooney St., off Stratford Road.
Patients are able to receive comprehensive orthopaedic and sports medicine services including injury evaluations, casting, concussion evaluations and sports rehabilitation.
"This expanded clinic space allows us to offer more leading-edge diagnostics and minimally-invasive treatments such as the NanoScope micro arthroscopy system and to increase our use of innovative biologics such as platelet-rich plasma therapy," said L. Andrew Koman, M.D., chair of orthopaedic surgery at Wake Forest Baptist Health. "For years, athletes of all ages and experience levels have trusted us with their sports medicine care, and we know this newly renovated facility will enable us to provide a much better and convenient experience."
The team of providers includes six orthopaedic surgeons who are board certified in sports medicine, four sports medicine physicians and three advanced practice providers. Same-day or next-day appointments are offered along with extended evening and Saturday morning hours.
Wake Forest Baptist operates 25 orthopaedic and sports medicine practices throughout the region and serves as the official health care provider for a number of area professional sports teams, universities and school systems.