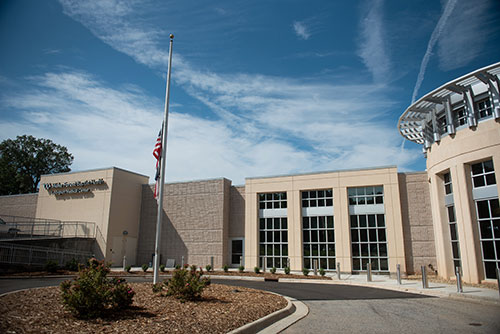 Wake Forest Baptist Health today unveiled the new 26,500-square-foot surgical facility expansion at Wake Forest Baptist Health – Lexington Medical Center that is scheduled to open in early September.
The $31.5 million state-of-the-art surgical facility includes four fully-digital operating rooms that can accommodate various types of procedures and specialties, including ear, nose and throat; gynecology; ophthalmology; orthopaedics and joint replacements; urology; and general surgery.
In addition, a 10-bay post-anesthesia care unit for patients to recover from anesthesia after surgery, a urology procedure room, a spacious waiting area for families and private consultation rooms for physicians and family members will enhance the care and convenience provided at Lexington Medical Center.
"We are so pleased to be opening this beautiful new space which will give our patients and their families, along with surgeons and operating room staff a much better experience for many years to come," said Julie Ann Freischlag, M.D., CEO of Wake Forest Baptist Health and dean of Wake Forest School of Medicine. "The Lexington community has needed and deserved a new surgical facility for quite some time so this project allows people in Davidson County and the surrounding areas to continue to receive a full range of convenient, high-quality and specialized care and treatment close to home."
Once the new facility is open, the four existing operating rooms will be converted to procedure rooms.
"Many of our own staff were involved in the planning and design, so it's been inspiring to see how people in our community have embraced this project as an investment in their own health and the health of their families and neighbors," said Bill James, president of Wake Forest Baptist Health – Lexington Medical Center. "The innovative, leading-edge technology in each operating room, combined with the skill and experience of our surgeons and staff, allow for more precise surgery which can often translate into better outcomes for our patients."
The general contractor for the project is Rodgers Builders and the architect is Little Diversified Architectural Consulting. Both companies have extensive knowledge and experience with hospital design and construction.