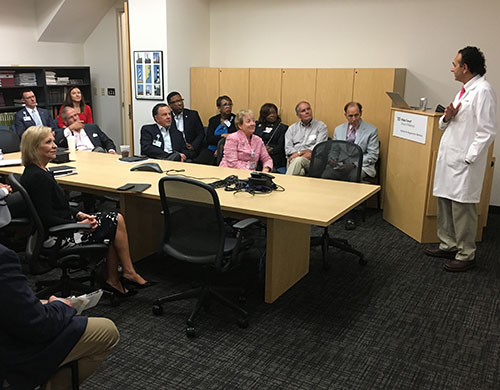 A special meeting of the Atrium Health board of commissioners and the board of advisors of The Charlotte-Mecklenburg Hospital Authority was held earlier today at the Innovation Quarter.
[Pictured at right] Anthony Atala, M.D., Director of the Wake Forest Institute for Regenerative Medicine, speaks with Atrium Health and Wake Forest Baptist Health board members and officials Wednesday.
The board members were in town to learn more about medical education programs at Wake Forest School of Medicine as well as its extensive basic science and translational research portfolio. They toured Wake Forest Biotech Place, Wake Forest Institute for Regenerative Medicine, the Bowman Gray Center for Medical Education and the mixed-use knowledge community growing in the Innovation Quarter.
Several members of the Wake Forest Baptist Health board of directors joined the Atrium Health group in the afternoon for presentations by Wake Forest School of Medicine faculty in several key research areas including addiction, aging and Alzheimer's disease, cancer, cardiovascular disease, diabetes and obesity, and regenerative medicine
"We thoroughly enjoyed the opportunity to highlight our leading-edge academic and research programs and facilities and share some of the amazing work being done right here in Winston-Salem," said Julie Ann Freischlag, M.D., CEO of Wake Forest Baptist Health and dean of Wake Forest School of Medicine. "There was so much positive energy and enthusiasm throughout the day. It is exciting to see our relationship continue to grow."
Wake Forest Baptist employs 19,200 people system-wide and received more than $212 million in research funding in 2018. More than 170 companies with 3,700 workers call the 330-acre Innovation Quarter home.
"The time invested today at Wake Forest Baptist Health has solidified our deep respect for their long-term commitment to being a leading academic healthcare enterprise, including the incredible school of medicine and the amazing research taking place in Winston-Salem," said Edward J. Brown III, chair of the Board of Commissioners at Atrium Health. "Our visit brought to life the innovation, collaboration and creativity we have heard and read about, and increases our excitement about the possibilities of what our organizations can do together to improve the health of many people."
In April, Wake Forest Baptist Health, Wake Forest University and Atrium Health announced the signing of a Memorandum of Understanding to create a next-generation academic health care system with plans for Wake Forest School of Medicine to develop another campus in Charlotte.
The three organizations continue to diligently work together and explore opportunities to enhance services, capabilities and drive greater efficiencies, with the goal of entering into a final agreement later this year.
Media Contacts:
Paula Faria, pfaria@wakehealth.edu, 336-716-1279
Joe McCloskey, jmcclosk@wakehealth.edu, 336-716-1273