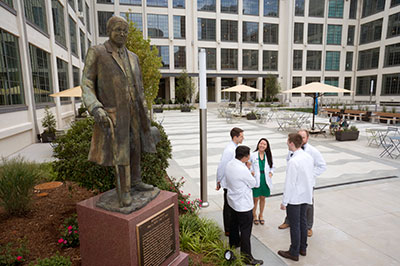 From opera singers to bodybuilders, college athletes to comedians, and ballroom dancers to video game developers, Wake Forest School of Medicine's newly-arrived class of 2023 sure is a diverse group of medical students.
One is even a U.S. Army medic who was deployed overseas six times.
The 145 medical students account for the largest class in School of Medicine history with 74 women and 71 men, chosen from 10,703 applicants.
"These students bring with them a rich diversity of backgrounds and life experiences that I know will be valuable during their time here at medical school and ultimately in their future careers as physicians," said Julie Ann Freischlag, M.D., CEO of Wake Forest Baptist Health and dean of Wake Forest School of Medicine.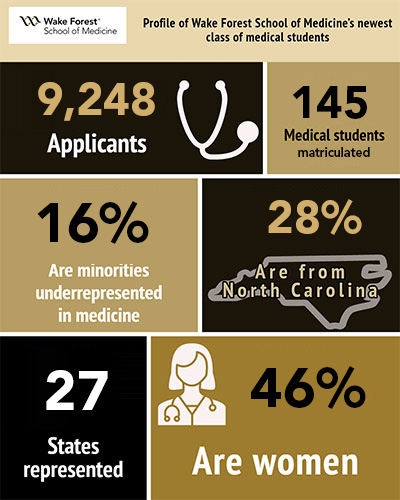 "In the next four years, they will be exposed to a wide array of clinical and research experiences which will prepare them to be physicians and leaders poised to help guide the health care field through complex and unprecedented changes."
The members of the class of 2023 received their undergraduate degrees at 72 different institutions. While students come from 32 states, 45 are residents of North Carolina and 24 are members of racial or ethnic groups that are underrepresented in medicine.
"We attract students who not only have strong academic backgrounds but who also have demonstrated a genuine desire to serve others, which is evident by the large number of students who volunteer at our DEAC Clinic and with numerous organizations throughout our community," Freischlag said.
"Compassion and empathy are incredibly important traits for future physicians to possess as health care shifts from volume to quality and value."