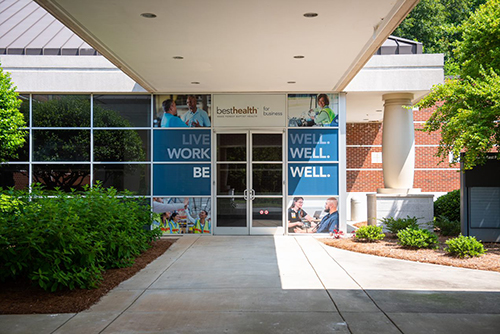 Wake Forest Baptist Health today opened an occupational medicine practice at 2295 14th Street N.E., just off New Walkertown Road.
Services provided at the 3,800-square-foot Wake Forest Baptist Health – Winston East Occupational Medicine include work injury evaluations, DOT physicals, pre-employment physicals, drug screenings and alcohol testing, vaccinations, respirator fit testing, and physical ability testing.
Occupational medicine services have moved from Wake Forest Baptist's Clemmons Urgent Care facility to this new location, which provides a dedicated space and expanded hours. The practice is open from 7:30 am to 4:30 pm, Monday through Friday.
"We are so pleased to be able to offer these vital services at a new location that is easily accessible for companies and their employees in downtown Winston-Salem, eastern Forsyth County and western Guilford County," said Bill Satterwhite, M.D., J.D., Wake Forest Baptist's chief wellness officer. "Many employers throughout the Triad have asked for a more convenient location with expanded hours, so we look forward to helping even more companies keep their employees well and working."
The new office is next to Wake Forest Baptist's Winston East Pediatrics.
Researchers from Wake Forest Baptist's Sticht Center on Aging will also use part of the space to make it easier for people to get involved in clinical trials that focus on preventing memory decline and Alzheimer's in older adults as well as research in improving care for people with memory loss.
The contractor for this project is Landmark Builders, of Winston-Salem.