The Medical Alumni Association (MAA) of Wake Forest School of Medicine presented awards during the annual MD Alumni Awards Celebration on May 3 at Benton Convention Center.
J.E. "Betsy" Tuttle, M.D., Jimmy L. Simon, M.D., James W. Johnston and Margarita Arakelyan-Peters Berwick, M.D. Class of 2019, were recognized for their achievements and contributions to Wake Forest School of Medicine and Wake Forest Baptist Health.
Recipients of these awards are selected annually from nominations submitted to the MAA Nominations and Awards Committee, and approved by the MAA Board of Directors.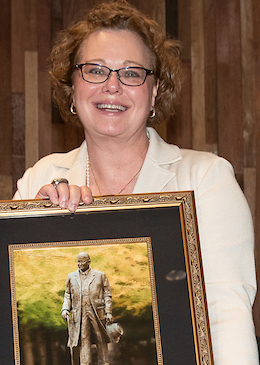 J.E. "Betsy" Tuttle, M.D., received the Distinguished Achievement Award for her outstanding contributions to patient care, research and leadership. She is a 1988 graduate of the Wake Forest School of Medicine, the Walter J. Pories Distinguished Professor of Surgery and chair of the department of surgery at Brody School of Medicine, East Carolina University. Tuttle is also chief of surgery at Vidant Medical Center. According to the Association of Women Surgeons, Tuttle is the first female chair of surgery in the Southeast and the seventh woman to be appointed surgery chair among the nation's 200-plus medical schools.
Over the course of her trailblazing career, Tuttle provided leadership in abdominal transplant surgery receiving multiple clinical and teaching awards, as well as several Medals of Honor from the U.S. Department of Health and Human Services for her efforts to improve and expand organ donation and transplantation processes. Her research efforts have focused on liver transplant outcomes, living kidney donors, critical care of transplant recipients, and transplant center design and governance.
During her 13-year tenure at Duke, Tuttle held multiple academic positions and was the first woman surgeon on faculty to earn tenure and to have children as a member of the surgical faculty. She was one of only two surgeons to earn the Davidson Teaching Award at Duke.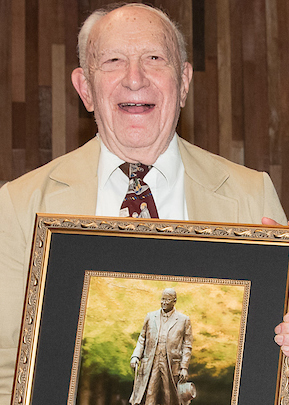 Jimmy L. Simon, M.D., 88, Professor Emeritus of Pediatrics, Wake Forest School of Medicine, received the Distinguished Faculty Award. The award is presented to a faculty member who has made outstanding contributions to the School of Medicine and the Medical Center through teaching and research and by demonstrating the highest principles of academic medicine. Throughout his long career, he focused on providing high quality education in pediatric training and clinical pediatric practice.
Born and raised in San Francisco, Simon did his undergraduate work at the University of California at Berkeley. In 1955, he received his medical degree from the University of California, San Francisco Medical School. He spent his early and mid-career at academic medical centers in California, Oklahoma and Texas. In 1974, Simon joined North Carolina Baptist Hospital and became chair of pediatrics. He was instrumental, along with Richard Janeway and the Brenner family, in establishing Brenner Children's Hospital and in bringing a strong pediatrics education and clinical program to Winston-Salem. To the thousands of students he taught over the course of his career, he was known as the 'Simonizer' for his no-nonsense demeanor and, for his devotion to the profession, the Father of Pediatrics. He retired in 1996 and became chair emeritus. He still comes in to his office at the School of Medicine.
Simon is the recipient of multiple teaching awards from the University of Oklahoma, the University of Texas and Wake Forest Baptist, as well as several awards from the American Academy of Pediatrics. In 1996, Simon received the prestigious Joseph St. Geme Award, an educational award given each year to a single academic pediatrician who is selected by all of the nation's pediatric societies.
From 1987 to 2009, Simon served or led a number of pediatric societies, clinical and academic education organizations. He was on the editorial boards of Pediatrics in Review and of Pediatrics. He served as Chairman of the Council on Pediatric Education of the American Academy of Pediatrics from 1993 to 1997.
James W. Johnston, chair of Wake Forest Baptist Health Board of Visitors and life member of the Wake Forest University Board of Trustees, was presented with the Distinguished Service Award for his outstanding contributions to the Medical Center.
Johnston is the president and chief executive officer of Stonemarker Enterprises Inc., a consulting and investment company. He was vice chairman of RJR Nabisco Inc. from 1995 to 1996, chairman of R.J. Reynolds Tobacco Worldwide from 1993 to 1996, and chairman and chief executive officer of R.J. Reynolds Tobacco Co. from 1989 to 1996.
A longtime supporter of Wake Forest Baptist Health, Johnston has served on the Wake Forest Baptist Health Board of Visitors since 1991 and chaired the Wake Forest Baptist Health multi-year philanthropic campaign. He has been a member of the Wake Forest University Health Sciences Board of Directors since 2011 and has chaired the university's investment committee, which oversees the endowment.
Johnston established a professorship in diabetes and obesity, which resulted in recruitment of a nationally-renowned researcher, Don McLain, M.D., chair of diabetes and obesity. McLain's work brought NIH funding to Wake Forest Baptist that focuses on diabetes and obesity, as well as aging, Alzheimer's disease and cancer metabolism. A personal tragedy in 1996 prompted Johnston to establish a fund for neuroscience research, which continues to this day. "This is a personal obligation that means a lot to me," said Johnston. "If I can be a small part of something that can grow over time, it's a good feeling"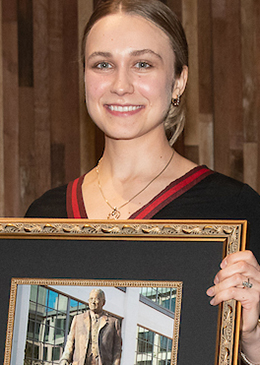 Margarita Arakelyan-Peters Berwick, M.D. Class of 2019, received the Student Excellence Award. This award is determined by members of the graduating medical class and is presented to a student who has demonstrated qualities that will enable them to succeed as a model of the complete physician – knowledgeable, compassionate and dedicated.
Margarita Arakelyan-Peters Berwick was born in Uzbekistan and spent her early years living in northwestern Russia before later moving to the city of Murmansk. At age 15, Margarita was adopted by a family in Texas and came to Wills Point, where she graduated high school as a salutatorian and later graduated from Southern Methodist University. She started medical school at Wake Forest School of Medicine in 2014.
She discovered her passion for research during her early years in medical school, working with several faculty members and publishing multiple manuscripts. She also took advantage of service opportunities by leading the Special Projects team at the DEAC Clinic (Delivering Equal Access to Care), a student-run, physician-staffed free clinic for those who cannot afford health insurance and do not qualify for government assistance. Margarita has also had the privilege of helping other students find their passions and interests during her time as co-president of the Vascular Surgery Interest Group.
Following graduation, she will begin an Ob-Gyn residency this summer at the University of Florida.
Media contacts:
Joe McCloskey, jmmclosk@wakehealth.edu, 336-716-1273
Eryn Johnson, eryjohns@wakehealth.edu, 336-713-8228