'You have cancer'- three words 30-year-old Aaron Plaster of Oak Ridge never expected to hear.
What Plaster and his wife, Amanda, initially thought was the flu, wasn't. It was acute lymphocytic leukemia (ALL), a cancer of the bone marrow and blood.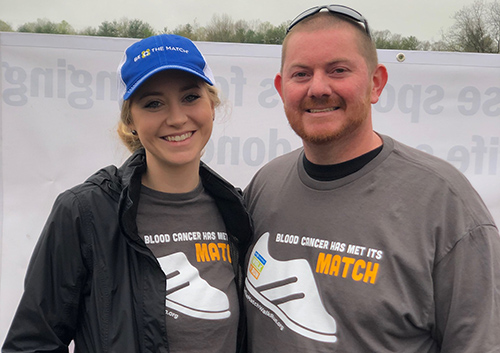 "The word "acute" in ALL means that the leukemia can progress quickly and creates immature blood cells, rather than mature ones," said Dianna Howard, M.D., Plaster's doctor and professor of hematology and oncology in the Comprehensive Cancer Center at Wake Forest Baptist Health. "ALL starts in a stem cell in the bone marrow and is more likely to occur in children and adults over the age of 60. It's not nearly as common in someone around Aaron's age."
Plaster, who was a first-time father to a newborn baby girl at the time of his diagnosis in February of 2017, spent the following months undergoing chemotherapy. In August of that year, Plaster learned he would need more chemotherapy treatments than initially thought in order to increase his chances for a successful bone marrow transplant.
Howard and her transplant team tested Plaster's family members hoping they would be a strong match, but none were suitable. Thanks to the international Be The Match organization, Plaster was added to the donor registry and 30 days later, he had a perfect match.
"When I learned I had matched perfectly with someone so quickly, I couldn't believe it," Plaster said. "Someone I didn't even know was my saving grace. From that moment, I couldn't wait to hopefully connect with this person one day and thank them for this ultimate and perfect gift."
His perfect match belonged to a stranger across the country. That stranger was 23-year-old Maddie Gamache of Washington.
Plaster received his bone marrow transplant from Gamache in November 2017 and the procedure was a success; more than a year after the transplant he remains in remission.
Due to the Be The Match protocol, Plaster and Gamache would both have to agree to share their identities with one another and they also would have to wait one year from the transplant date surgery to do so.
A year later both had decided they wanted to meet.
In January of this year, Plaster and his wife emailed Gamache and started forming a relationship with her.
"When I saw the email from my recipient, who I now know is Aaron, I was ecstatic," Gamache said. "I had learned about the Be The Match program while in college at Oregon State University. I signed up in 2015 and two years later I got the call from them that I was a potential candidate for someone. After further testing, we learned I was a perfect match. I was so excited to learn Aaron wanted to meet me too."
Gamache and Plaster met this past weekend at the Triad Be The Match 5K in Oak Ridge, where both participated in the run.
This was Gamache's first time being a stem cell donor, but she hopes it's not her last.
Media contacts:
Eryn Johnson, eryjohns@wakehealth.edu, 336-713-8228