Wake Forest Baptist Health has recently completed two projects at Wake Forest Baptist Health – Davie Medical Center to better serve the health care needs of people in the area.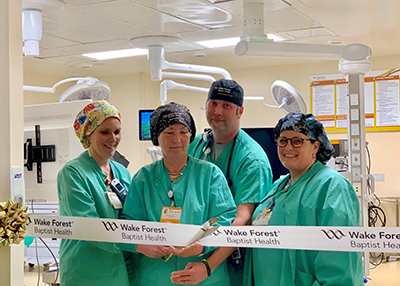 In early March, Davie Medical Center opened a new $13.3 million, 10,000-square-foot surgical wing. This project added an operating room and a minor procedure room to give the hospital a total of three operating rooms and three minor procedure rooms.
In December, the orthopaedic practice was expanded with a $2.4 million, 6,900-square-foot addition on the fourth floor of the hospital's medical office building. This space accommodates Wake Forest Baptist's growing joint replacement program, and other general orthopaedic services.
"This is an investment in our community which allows us to continue to meet current and future health care needs, not only at Davie Medical Center, but across our entire health system," said Julie Ann Freischlag, M.D., CEO of Wake Forest Baptist Health and dean of Wake Forest School of Medicine. "As people age, they want to live longer and healthier lives, so we are seeing more and more people coming to us for orthopaedic services, and especially hip and knee replacements."
Wake Forest Baptist continues to expand services and elevate the level of care at the system's network hospitals which enable more people to receive care in their own communities.
"Both of these projects allow us to bring additional services to our community and deliver more of the outstanding care our patients have come to expect," said Chad Brown, president of Wake Forest Baptist Health – Davie Medical Center. "These improvements also enhance our efforts to keep more of our patients close to home, and in an environment that is built around our Patient- and Family-Centered Care model."
The contractor on both projects is Rodgers Builders, of Charlotte. Rodgers also constructed Davie Medical Center's campus which opened in 2013, added the hospital's 50-bed inpatient addition, completed in spring 2017, and is building Lexington Medical Center's new surgical facility which is expected to be finished in late 2019.