Shane Stone and Paige Estave were so deeply affected by their experiences at the Betty Ford Center that they felt the need to share what they learned there. And they've done just that.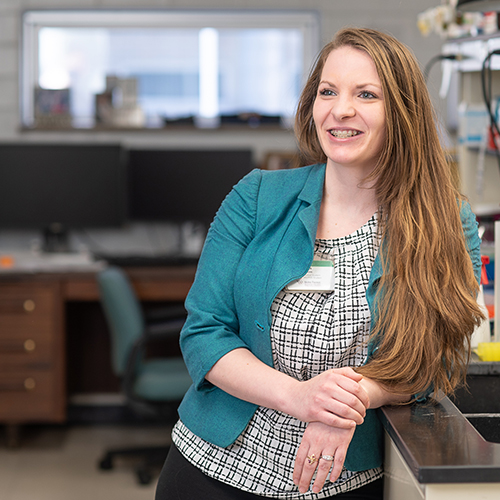 Stone and Estave weren't patients at the famous addiction treatment facility in Southern California. Rather, they were participants in an intensive weeklong program designed give to give aspiring physicians insight into addiction assessment, treatment and recovery. Both attended in the summer of 2016, following their first year at Wake Forest School of Medicine, along with five others from the school.
"It was a real immersive experience," said Estave, who is now in the fourth year of a seven-year, joint M.D.-Ph.D. program at the School of Medicine. "We were with the patients in lectures, therapy sessions, group sessions, just about everything. It definitely changed the way I think about addiction."
"When we got back we all thought that it would be great if everyone at school could have that experience," said Stone, who will receive his medical degree this spring. "That wasn't possible, but we wanted to at least bring some of that knowledge to campus."
The students who'd been at Betty Ford did so by establishing a student interest group, led by Stone, dedicated to addiction.
Interest groups are school-sanctioned organizations that allow medical students to pursue extracurricular activities that supplement their formal education. There are approximately 50 of them at the School of Medicine. The addiction medicine interest group - one of the first of its kind at a U.S. medical school - became active in September 2017 and has had about 80 students (roughly one-sixth of the total enrollment) take part in its events and programs this academic year.
Addiction is certainly a subject worthy of medical students' attention, even beyond the current opioid epidemic. Federal agencies estimate that addiction to street drugs, prescription drugs, alcohol and tobacco afflicts about 50 million Americans, costs more than $1 trillion a year in expenses related to crime, lost productivity and health care and contributes to approximately 640,000 deaths annually.
"Addiction is something we're all going to encounter no matter what kind of medicine we end up practicing," Stone said. "One of our main goals is to expose as many of our classmates as we can to addiction so they're more familiar with it when the time comes, which it will."
Another aim is to raise awareness that addiction is in fact a disease, said Estave, the interest group's current president.
"I myself had an animosity toward people with addiction at first; I thought they were making a choice to do drugs," she said. "But addiction is a brain disease, and it's important we recognize that."
The centerpiece of the interest group's activities is an annual supplementary course that covers numerous facets of addiction through talks by clinicians, researchers and people in recovery (including doctors); case studies; role-playing exercises; training in identification and intervention techniques; and instruction in the use of naloxone, a medication that rapidly negates the effects of opioid overdose. The students who complete the four-session, 12-hour program receive a certificate they can use as a credential when applying for a residency, fellowship or other position.
The group also conducts lunch talks led by experts in the field; arranges shadowing opportunities with Wake Forest Baptist Health practitioners and researchers involved with addiction; and organizes volunteer community-service work that includes an annual health fair, smoking-cessation counseling and needle-exchange and opioid-collection programs.
"The course is a way to demonstrate that you have a special interest in addiction," Stone said, while all of the group's activities are intended for students to "learn more than what's in our formal curriculum."
Considering the extent of the problem it might be surprising that the curriculum of a leading medical school might not deal with addiction in depth.
But that's a situation far from unique to Wake Forest School of Medicine. A 2012 report by the National Center on Addiction and Substance Abuse at Columbia University found that addiction was not "sufficiently integrated into medical education or residency training programs." Many significant improvements have been made since then, but "we're still not where we should be," said Laura Veach, Ph.D., professor and director of specialized counseling, intervention and training in the surgery-trauma department at Wake Forest Baptist Medical Center.
"There's still a stigma attached to addiction. It has for too long been seen as a behavioral problem, or a moral problem, even a mere matter of willpower," said Veach, who works with the student interest group. "But we know it is a chronic medical disorder that has genetic, biological, psychological, social and environmental factors, which can cause physical changes to the brain.
"There's no reason why we should treat people with substance-use issues differently than we treat other patients, but far too often we do. Educating all physicians and other health care providers about addiction issues is absolutely vital."
Among the positive steps taken recently at Wake Forest are the establishment of a two-year fellowship in addiction medicine (one of only 50 or so such programs in the country) and that all of this year's medical school graduates will complete the training required to obtain the Drug Enforcement Agency waiver needed to prescribe and dispense buprenorphine, a drug to treat opioid dependency and addiction.
It is a given that the majority of medical students, including those in the addiction interest group, will not be directly involved in the actual treatment of addiction when they become practicing physicians. But there's still much that doctors can do before a person becomes addicted to a substance.
"We as future physicians need to learn as much as we can about addiction and do whatever we can to help patients, especially by recognizing the signs early," Estave said. "If we can reach people early, maybe we can successfully fight this."
That type of attitude is why Margaret Rukstalis, M.D., associate professor of psychiatry and behavioral medicine, is an enthusiastic supporter of the medical students' efforts.
"They're quick learners, and they're not attached to old ways of doing things," said Rukstalis, an addiction specialist who advises the student interest group. "Some of what they're doing is being picked up by residents and even faculty members. I call it a 'trickle up.'
"The future is bright when you have students like these. They provide hope. The energy of the future is good."
Media contact:
Marguerite Beck, marbeck@wakehealth.edu, (336) 716-2415