Surgery can often be stressful - and not just for patients.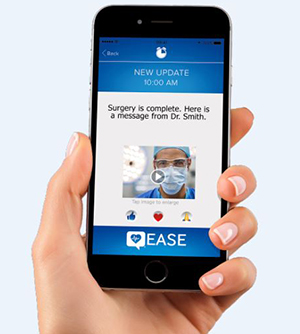 To help reduce anxiety for family members and friends waiting outside the operating room, Wake Forest Baptist Medical Center has introduced a new form of direct communication.
Wake Forest Baptist is the first hospital in the state to use EASE (Electronic Access to Surgical Events), a HIPAA-compliant cell phone application that allows an assigned nurse in the operating room to update approved loved ones on the status of a patient's surgery in real-time.
The app lets family members receive secure and appropriate texts, photos and videos - depending on their preferences - at certain points during surgical procedures. These updates also can be shared with an unlimited amount of permitted designated contacts. The optional application is free for patients and their family members and available in nine different languages.
"Our hope is to add some peace of mind to the waiting room when waiting for an update from a clinician on a surgery's progress," said Wayne Meredith, M.D., chair of surgery at Wake Forest Baptist. "We want to stay as closely connected and engaged as possible with our patient's families. This technology lets us update those family members identified by our patient anywhere in the hospital or in the country, periodically, during surgery."
All messages, photos and videos are automatically deleted from the mobile device after 60 seconds and updates will occur at the discretion of the clinical staff. EASE is available to adult and pediatric patients who have a scheduled surgery. The app uses 256-bit encryption to protect all communications.
Families can send "like", "heart" and "prayer hand" reaction emojis in response to each update.
When surgical complications need to be discussed, this type of information will always be conveyed in-person by a physician, nurse or other appropriate staff member.
Wake Forest Baptist has received positive feedback since introducing the app to patient's family members last week. Participants have described the app as user-friendly and also have praised the multicultural availability, reassuring updates and compassion shown to them while waiting on a loved one.
Media contacts:
Eryn Johnson, eryjohns@wakehealth.edu, 336-713-8228
Joe McCloskey, jmcclosk@wakehealth.edu, 336-716-1273