Sadie has been doing hospital volunteer work for almost eight years now. She has a regular schedule, a photo ID badge and a vest she wears while on duty.
Though Sadie hasn't had any medical training and doesn't possess any exceptional skills she's a popular figure with patients, their family members and hospital staff for a simple reason: She has a knack for making people feel better.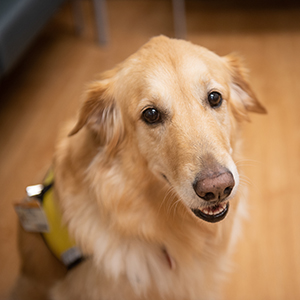 Sadie's a therapy dog.
The 9½-year-old golden retriever-Labrador mix is one of approximately 50,000 certified therapy dogs in the United States and one of 21 currently engaged at Wake Forest Baptist Medical Center.
"I'd heard of therapy dogs before I got Sadie and I thought it would be a great way to spend lots of quality time with her and to share her with others," said her owner, Catherine Rutter of Winston-Salem.
"It's an opportunity for her to bring joy to people, and it's definitely one of her favorite things to do."
Therapy dogs are trained to provide comfort and affection to people in a variety of settings, including hospitals, nursing homes, rehabilitation facilities, schools, libraries, day care centers, group homes, even airports and the sites of natural and man-made disasters. They are not to be confused with service animals, which are specially trained to help disabled individuals carry out everyday tasks, or emotional support animals, which assist people who have psychological issues. Those animals serve one specific person; therapy dogs interact with lots of different – and usually unfamiliar – people.
That's why the most important quality of therapy dogs is temperament. They need to be friendly, patient, gentle, calm, easygoing, comfortable in different environments, fond of human contact and tolerant of it, even if it's awkward or clumsy.
But that type of personality alone doesn't qualify a dog for therapy duty. Virtually all institutions that enlist therapy dogs have general requirements – such as successfully completing basic obedience classes, passing the American Kennel Club's Canine Good Citizen test and obtaining certification from one of four national organizations – plus site-specific standards.
"Even though a prospective therapy dog has been certified and meets our other criteria, I evaluate them to see if they're a good fit here," said Suzanne Thompson, M.A., coordinator of Wake Forest
Baptist's Animal-Assisted Therapy program since it was started in 1999. "And that means both the dogs and the owner."
Therapy dogs do need to be clean and healthy. And they have to follow certain rules while on duty. Licking or kissing and shaking paws are prohibited, as are barking and jumping up on people. Infractions such as having an "accident" or displaying any type of aggressive behavior are grounds for dismissal.
As for the owners, at Wake Forest Baptist they're subject to the same application and screening process as all other volunteers.
One thing therapy dogs don't need to be is any specific breed. Labradors, golden retrievers and Cavalier King Charles spaniels are fairly common among therapy dogs but all kinds of canines – purebreds and mixed breeds alike – can handle the job. For example, the 21 dogs currently on the roster at Wake Forest Baptist represent 15 different breeds and mixes, and they range in size from a 228-pound English mastiff named Zooka to a 9-pound Japanese chin called Ren.
The owner-dog teams work in different areas of Wake Forest Baptist, from Brenner Children's Hospital to the Sticht Center on Healthy Aging and Alzheimer's Prevention, serving inpatients and outpatients with cancer, epilepsy, dementia and other conditions. Sadie, for one, visits the pediatric oncology unit on Tuesdays, the pediatric behavioral health unit on Thursdays and Club I, a recreation therapy program for adults with disabling conditions, one Wednesday each month.
"I work with our recreation therapists and child life specialists to determine which areas have a need and which dog team is best suited for a particular area," said Thompson, who is a licensed recreation therapist. "It all depends on what the patients need, and everything is done in coordination with medical staff to make sure the interaction between the dog and patient is appropriate."
The patients do have a say, too. "It's always voluntary," Thompson said. "Our patients get to decide if they would like to have a dog visit. It's completely their choice."
While research has shown that the mere presence of friendly dogs can have positive physical and psychological effects on people, therapy dog visits at Wake Forest Baptist usually involve some direct pet-patient interaction. And even the simplest of these contacts, such as petting or giving commands to the dog, can serve a therapeutic purpose.
"Whenever a dog team is with a patient a staff member is there to document in the medical record the effect the dog has on the patient," Thompson said. "It may be something like if they're able to smile when they haven't been able to, or if they experience a decrease in pain level after the visit."
The therapy dogs also occasionally have non-clinical duties, such as raising the spirits of pressured staff members and de-stressing Wake Forest School of Medicine students during exam time. And some of their visits with patients aren't therapy-based.
"Sometimes it's just an opportunity for free interaction and engagement and enjoyment with the dog, which is also valuable," Thompson said.
"When the dogs are at Brenner, seeing the smiles on the children's faces is simply wonderful. We are truly blessed to have such dedicated volunteers and special dogs."
Media contact:
Marguerite Beck, marbeck@wakehealth.edu, (336) 716-2415