High Point Regional Health officially became part of the Wake Forest Baptist Medical Center family on Saturday, September 1 and has a new name, Wake Forest Baptist Health – High Point Medical Center. The new name reflects the reach of High Point Medical Center's existing health care services and popularity with patients beyond the region.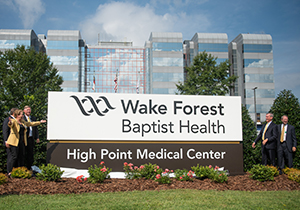 With 351 licensed beds and more than 2,600 employees, including more than 130 physicians, High Point Medical Center serves more than 300,000 patients each year, in 41 locations across four counties.
Last fall, Wake Forest Baptist and UNC Health Care signed a letter of intent in which Wake Forest Baptist would acquire and integrate High Point Regional and its affiliates into their health care system. In March 2018, a definitive agreement advanced the process to transition ownership.
Over the past six months, leaders from Wake Forest Baptist, UNC Health Care and High Point Medical Center worked together continuously on the complex effort to fully integrate multiple systems, processes and work streams across all institutions to ensure a seamless transition into the Wake Forest Baptist system.
"Our community hospital has had a rich history of providing exceptional health services to the people of this region," said Jeff Horney, chair of the High Point Medical Center board of trustees. "With our alignment with Wake Forest Baptist, we are positioned to be even stronger than ever with the ability to provide a broader range of patient care services and programs. This is truly another exciting step forward for High Point!"
High Point Medical Center's deep history began in 1904 as a response to the typhoid and smallpox epidemics. Members of the community bought a house, gathered donations of furniture and collected sheets for the first hospital beds. The current facility opened in 1986, with a total cost of $54 million – $10.2 of which was raised from the community.
"There is such a strong commitment to supporting high-quality health care among the people of High Point, and Wake Forest Baptist is honored to share that same commitment to the patients and their loved ones who receive care here," said Julie Ann Freischlag, M.D., CEO of Wake Forest Baptist Medical Center and Dean of Wake Forest School of Medicine. "We want to acknowledge the leadership and management that UNC Health Care has provided over the past five years, and to thank everyone who worked tirelessly to help make this a smooth transition."
The addition of High Point Medical Center increases the capacity across the entire Wake Forest Baptist system and allows more patients to receive care close to home.
"The increased capacity helps us keep more beds available at our Winston-Salem campus for those who need treatment for critical illnesses or injuries and enables us to better deliver the right care at the right place," said Kevin P. High, M.D., president of Wake Forest Baptist Health's system. "We look forward to working with our new colleagues to grow the existing services provided here and believe that together, we can better deliver world-class care to those who trust us with their health."
Aligning High Point's medical community with Wake Forest Baptist allows physicians to work together more easily and in partnership with the hospital and provides patients with quick and efficient access to a wide array of specialists, close to where they live.
"As an academic medical center, we are also expanding educational opportunities for local college and university students to work together with Wake Forest School of Medicine students," said James W. Hoekstra, M.D., president of Wake Forest Baptist Health – High Point Medical Center. "I am incredibly honored to have the opportunity to serve in this capacity and excited to see what the future holds for all of us as we strive to improve the health of everyone in our community."