How does it feel to have a machine named for you?
"It's pretty cool," said 29-year-old firefighter Corey Showers.
What's even cooler is that it's no ordinary machine. It's a robot. More specifically, a telemedicine robot at Lenoir Memorial Hospital in Kinston that helped doctors keep Showers from suffering the severe consequences of a stroke.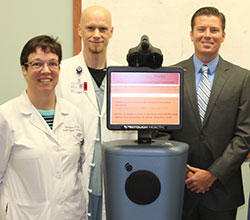 The robot now officially named "Corey" is Lenoir Memorial's link to Wake Forest Baptist Medical Center's Telestroke Network, an Internet-based system that gives 20 community hospitals across North Carolina access to 24-hour, real-time, two-way visual and audio communication with acute-stroke experts at Wake Forest Baptist's main campus in Winston-Salem.
Stroke occurs when the blood supply to the brain is interrupted or severely reduced, depriving brain tissue of oxygen and nutrients. Brain cells begin to die within minutes, so treatment for a stroke should begin as soon as possible to minimize lasting brain damage.
Showers needed that type of prompt treatment last May when he experienced stroke symptoms, including impaired speech and partial paralysis, while on duty with Kinston Fire & Rescue. He was taken to the Emergency Department at Lenoir Memorial, where the medical staff contacted the Telestroke Network.
Using the telemedicine robot, the Wake Forest Baptist neurologist on duty was able to assess Showers' condition. After being given a dose of the clot-busting drug tPA, Showers was transported to Vidant Medical Center in Greenville. There, he was successfully treated for carotid dissection, a tear in the artery wall supplying blood to the brain and a common cause of stroke in younger adults.
After approximately two weeks of hospitalization and a month of rehab, Showers displayed no effects from the stroke. He returned to "inside" work at the fire department in July and resumed his full firefighting duties in December.
"I'm very appreciative that the robot was there along with the competent, dedicated people who know how to use it," said Showers, who is now with Leland Fire/Rescue in Brunswick County.
The decision to name the Lenoir Memorial robot after Showers wasn't a tough one, said Dawn Becker, R.N., coordinator of the hospital's stroke program.
"This young man has devoted his life to public service so it seemed fitting to name the robot after him," she said.
Before becoming a firefighter, Showers served in the Marines and was a helicopter crew chief with the search and rescue unit known as Pedro based at Marine Corps Air Station Cherry Point in Havelock. He is currently in the process of obtaining his paramedic certification and doing his clinical training at Lenoir Memorial.
"I'm working in the ER with some of the same nurses who were there when I was a patient, which is also pretty cool," Showers said.
The Wake Forest Baptist Telestroke Network has provided more than 2,200 remote consultations since it was established in 2009.
In addition to Lenoir Memorial Hospital, the members of the Telestroke Network are Wake Forest Baptist Health-Lexington Medical Center in Lexington, Wake Forest Baptist Health-Davie Medical Center in Bermuda Run, Alleghany Memorial Hospital in Sparta, Caldwell Memorial Hospital in Lenoir, Cannon Memorial Hospital in Linville, Carteret Health in Morehead City, Catawba Valley Medical Center in Hickory, Frye Regional Medical Center in Hickory, Granville Health System in Oxford (in partnership with WakeMed Health and Hospitals), Iredell Memorial Hospital in Statesville, Lake Norman Regional Medical Center in Mooresville, Watauga Medical Center in Boone, Wilkes Regional Medical Center in North Wilkesboro, Vidant Beaufort Hospital in Washington, Vidant Duplin Hospital in Kenansville, Vidant Edgecombe Hospital in Tarboro, Vidant Bertie Hospital in Windsor, Vidant Chowan Hospital in Edenton and Vidant Roanoke-Chowan Hospital in Ahoskie.
Media Relations
Mac Ingraham: mingraha@wakehealth.edu, 336-716-3487
Joe McCloskey: jmcclosk@wakehealth.edu, 336-716-1273