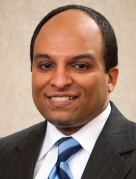 Wake Forest Baptist Medical Center has added another seasoned health care executive to its leadership team, Sanjay Saha.
Effective Oct. 24, Saha will join Wake Forest Baptist as the executive vice president (EVP) of operations. Saha has a wide range of health care experience that includes successful leadership roles at academic medical centers and large physician practices.
"Sanjay's abilities to work effectively with physicians as well as administrators toachieve operational and strategic objectives stood out in our national search and is a great fit for us," said Tom Sibert, M.D., M.B.A., president and chief operating officer, Wake Forest Baptist Health. "He is a strategic leader who will foster an increasingly integrated clinical governance structure targeted to operational excellence in key components of the clinical enterprise."
As EVP of operations, Saha will focus on improving organizational effectiveness, further integrating inpatient and ambulatory operations, as well as physician and administrative services, providing rapid, informed decision-making, eliminating unnecessary costs and ensuring patient-centered care.
He joins Wake Forest Baptist from the University Health Systems of Eastern Carolina, Greenville, N.C., where he served as vice president and senior vice president.
As senior vice president, Saha led the division responsible for surgical services, women's services and the children's hospital.
"It's a tremendous opportunity to join one of the nation's preeminent academic medical centers," said Saha. "Wake Forest Baptist represents the vanguard of health care delivery and innovation. I look forward to working closely with physicians to achieve operational and strategic objectives, to improve care quality and safety and implement novel strategies to build market share."
Saha earned his Bachelor of Science in biology at Wake Forest University and a Master of Health Science in health finance and management at Johns Hopkins University. He is a Fellow of the American College of Healthcare Executives and a Certified Medical Practice Executive.
Media Relations
Main Number: news@wakehealth.edu, 336-713-4587