Advance, NC – February 4, 2011 -- Wake Forest Baptist Medical Center announced plans today to bring its world class health care services to Davie County.
Wake Forest Baptist will develop its Davie Campus on Hwy 801 at I-40 in two phases, starting with outpatient services and then building a hospital.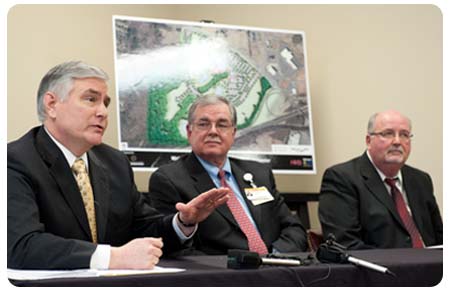 Dr. John D. McConnell speaks about the plans for Davie County.
"Davie County is an integral part of our vision for the medical center," said Dr. John McConnell, CEO of Wake Forest Baptist. "We are excited to bring the unique services of Wake Forest Baptist in partnership with local physicians to provide world class health care services in Davie County."
Phase one includes a medical office building for physician offices and a three-story outpatient building with approximately 90,000 square feet. It will house emergency, diagnostic imaging, outpatient surgery and endoscopy services and 10 observation beds. Phase one is estimated to cost approximately $60 million and is scheduled to be completed in late 2013. Approximately 175-250 people will be working on the campus when phase one is complete.
Phase two includes a 25-bed hospital estimated to cost approximately $25 million and scheduled for completion in 2017. An additional 75-125 people will be hired when the hospital opens. The phased approach is based on the agreement reached with Novant Health and approved by the State in December, 2009.
"I am thrilled with today's announcement. The wait has been worth it," said Terry Bralley, president of the Davie County Economic Development Commission. "The new hospital will secure the future of health care for our community and be a major catalyst for economic growth."
Bralley said the Wake Forest Baptist project would be one of the largest investments in Davie County history.
"The development will create new jobs, add to our tax base and enable more of our citizens to obtain their health care in the County," said John Ferguson, Mayor of Bermuda Run. "The proximity of health care services is important, since the population in eastern Davie includes many retired citizens who need more health care services." A portion of the site lies in the Town limits.
"After a careful analysis, we have concluded that this extensive array of both outpatient and inpatient services will meet the needs of Davie, western Forsyth and southern Yadkin counties," said McConnell. Wake Forest Baptist has no plans to file an application for a replacement hospital in Mocksville.
"Today's patients demand convenient locations, easy access to services, the latest technology and affordability," McConnell continued. "On the Davie campus, we will offer value for the health care dollar and the world-class services of Wake Forest Baptist."
McConnell also said the possibility exists that Wake Forest Baptist will build an additional 25 beds on the Davie campus. "That decision will depend on inpatient demand and economic feasibility," he said. The decision will not be made until after the initial 25 beds are opened in 2017.
Wake Forest Baptist operates the current Davie County Hospital in Mocksville. The hospital will close when the new hospital opens in 2017, and employees will be transitioned to the new hospital, the Wake Forest Baptist Healthcare Center -- Davie in Mocksville or elsewhere in the Wake Forest Baptist health system.
The hospital in Mocksville opened in l956. Currently, there are 100 full time jobs at the hospital.
Approximately half of the 88-acre tract on Hwy 801will be developed for commercial uses at what is one of the last undeveloped interchanges along I-40.
"We have received interest from banks, restaurants and hotels," said McConnell, "and are confident that the development will create new jobs and strengthen the tax base of Davie County." It will be named River Hill Commons.
Summit Healthcare Group of Winston-Salem is marketing the outparcels, which have excellent visibility from I-40.
Media Relations
Jonnie Rohrer: news@wakehealth.edu, 336-713-4587
Chad Campbell: news@wakehealth.edu, 336-713-4587