$87 million, 242,000-Square-Foot "Wake Forest BioTech Place" Will be Occupied in 2012
WINSTON-SALEM, N.C. – Piedmont Triad Research Park (PTRP), a component of Wake Forest University Baptist Medical Center, has reached an agreement with Wexford Science+Technology, a Baltimore, Md., developer, to rehabilitate two former tobacco manufacturing buildings in the PTRP North District into state-of-the-art space for labs, offices and other uses.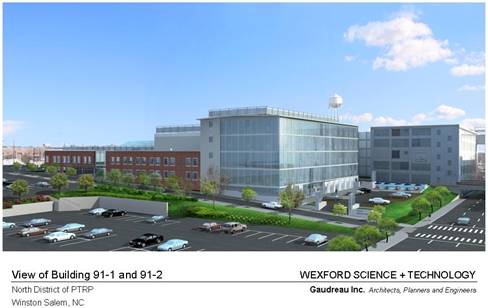 The new facility will be called Wake Forest BioTech Place, and the 18-month, $87 million project will provide a total of 242,000 square feet of space. The buildings were donated to PTRP by R.J. Reynolds Tobacco Co., which has given approximately 38 acres of downtown properties to the Research Park.
The renovation will begin immediately and is scheduled for completion by the end of 2011.
The project was announced in the Research Park, at an event attended by NC Gov. Beverly Perdue and more than 150 state and local officials and community leaders.
A selection of Governor Perdue's comments is featured below.
[video]
The BioTech Place project represents a major investment to support both community economic growth and Wake Forest Baptist's overall goal of becoming one of the nation's top academic medical centers, by creating high-quality research space to support the Medical Center's discovery engine and to foster collaboration.
The space will be occupied by scientists in a variety of high-priority areas. These departments will have room for growth and expansion, and additional space will be available for such uses as conferences and meets space, a credit union and a café.
The renovation and reuse of these two historic buildings – in the block bordered by Fifth, Vine and Sixth streets and Patterson Avenue – is a watershed event for both the North District and the entire Research Park. Developers believe that it will lead to other retail and commercial businesses locating there. It will also provide space for start-up companies that could grow and later expand to space elsewhere in the Research Park.
Research Park officials predict that the project will result in an estimated 130 new jobs over the next five years. Expansion of the departments that relocate to Wake Forest BioTech Place from the Medical Center's Hawthorne campus and other locations will create an estimated 30 new jobs. Support services, construction and startups will add an estimated 100 new jobs. About 320 existing jobs will be moved to the new facility.
"We hope this development will also serve as a magnet for other organizations that would benefit from close proximity to world-class medical research facilities," said Douglas L. Edgeton, president of PTRP and executive vice president of the Medical Center. "In addition to the departments to be relocated in the North District, the Park already houses world-class programs such as regenerative medicine, nanotechnology, lipids research and physiology and pharmacology."
About 85 percent of the new space will be used by the Medical Center. "This project represents a giant step for the Medical Center toward achieving our goal of becoming one of the very best academic medical centers in the nation," said John D. McConnell, M.D., the Medical Center's chief executive officer.
"This new facility demonstrates Wake Forest Baptist's commitment to our mission of improving the health of our region, state and nation, in part by generating and translating knowledge to prevent, diagnose and treat disease."
William B. Applegate, M.D., president of Wake Forest University Health Sciences and dean of the School of Medicine, said, "First-class space such as this is essential to recruit and retain scientists involved in groundbreaking research. We hope that our faculty and students as well will see this as symbolic of our commitment to maintaining the highest academic standards. This project also illustrates how the Medical Center's scientific mission is integral to the economic growth of our community."
Wexford officials are experts in the use of federal and state historic tax credits, which will make it possible to create a state-of-the-art lab/office facility out of the former manufacturing space. Government data show that every $1 of tax credits allowed under the federal New Markets program generates an average of about $12 of private investment in communities.
The Wake Forest BioTech Place project will also reflect the Research Park's commitment to creating an environmentally sustainable environment. Wexford is committed to attaining LEED (Leadership in Energy and Environmental Design) certification for BioTech Place, and PTRP is committed to using LEED Neighborhood Development guidelines for building an environmentally friendly and sustainable park.
LEED is an internationally recognized green-building certification system developed by the U.S. Green Building Council, providing third-party verification that a building or community was designed and built using strategies aimed at energy savings, water efficiency, reducing carbon dioxide emissions, improving indoor environmental quality, and stewardship of resources and sensitivity to their impacts.
PTRP projects to date have also resulted in major environmental improvements, including:
Recycling more than 1 million pounds of metals recovered from existing buildings.
Removal of 50,000 cubic yards of buried debris.
Demolition of an aging concrete manufacturing facility which resulted in a new state-of-the-art, environmentally sound plant being constructed, significantly improving the air quality in downtown Winston-Salem (resulting in an 87.5 percent reduction in particulate emission).
Redevelopment of one of the most polluted sites in downtown, the site of a former coal gasification facility and later a dry-cleaning plant.
A Brownfields agreement that resulted from several years of collaboration between PTRP and the N.C. Department of Environmental and Natural Resources.
PTRP is currently home to 55 companies and organizations, including Wake Forest Institute for Regenerative Medicine (tissue and organ engineering and stem cell research), Targacept (neuronal nicotinic receptors for the treatment of disorders of the central nervous system), CET LLC (intelligence, defense, homeland security and life sciences), Carolina Liquid Chemistries (chemistry systems and reagents for hospitals, laboratories and physician practices), KeraNetics (keratin-based products for regenerative medicine, trauma care and cell culture), and Triad Forensics Laboratory (forensic testing, storage and chain-of-custody services).
# # #
EDITORS:
Download the architect's rendering of the planned project.
Piedmont Triad Research Parkis a highly interactive, master-planned innovation community being developed to support life science and information technology research and development. Covering more than 200 acres on the east side of downtown Winston-Salem, N.C., PTRP will have economic impact throughout the Piedmont Triad and the state. A component of Wake Forest University Baptist Medical Center, PTRP has invested $49 million in land and infrastructure to develop the Park. To date, 12 acres have been developed, supporting 556,000 square feet laboratory, office and mixed-use space. Eventually the Park will comprise 6.1 million gross square feet of finished space, and provide the opportunity for more than 27,000 new jobs. PTRP is currently home to 55 companies and organizations employing 925 personnel with a collective annual payroll of more than $50 million.
Wake Forest University Baptist Medical Center is an academic health system comprised of North Carolina Baptist Hospital, Brenner Children's Hospital, Wake Forest University Physicians, and Wake Forest University Health Sciences, which operates the university's School of Medicine and Piedmont Triad Research Park. The system, which includes Lexington Memorial Hospital, comprises 1,004 acute care and rehabilitation beds and has been ranked as one of "America's Best Hospitals" by U.S. News & World Report since 1993. Wake Forest Baptist also holds the Gold Seal of Approval™ from the Joint Commission, the nation's esteemed standards-setting and accrediting body for health care quality. Wake Forest Baptist has more than 200 physicians listed in Best Doctors in America®. The institution is in the top third in funding by the National Institutes of Health and fourth in the Southeast in revenues from its licensed intellectual property.
Wexford Science+Technology is a privately held real estate investment and development company based in Baltimore, Md., and a wholly owned subsidiary of Wexford Equities, LLC. The company is led by a seasoned team of real estate, finance and engineering experts devoted to developing innovative real estate solutions that inspire creativity and advance new technologies. They understand the complex organizational structures and decision making processes that are unique to the institutions they serve and bring the best of the private corporate sector to the institutional arena for the benefit of their clients. Wexford builds strong relationships and works in close collaboration with clients at every phase of a project. Clients have included Children's Hospital of Philadelphia, Illinois Institute of Technology, Old Dominion University, the College of Medicine at the Milton S. Hershey Medical Center at Penn State, and University of Pennsylvania Health System.
Media Relations
Mark Wright: news@wakehealth.edu, 336-713-4587
Paula Faria: pfaria@wakehealth.edu, 336-716-1279